For the first time in months I really slept last night, maybe a full 10 hours or even more. The cause? A very long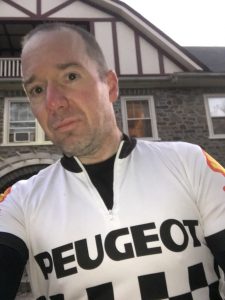 weekend of riding comprised of PA Randonneurs Fall Classic 15o kilometer 'populaire,' and Kermesse Sport's 100K fall classic Oktoberfest ride. Doing a bit more than 150 miles over two days is something I haven't done in at least 5 years, and doing both over the weekend was a bit silly, but just a bit. It was difficult and not debilitating because of two good decisions. One, I rode the 150K ride on Saturday rather than the full 200K brevet, which would have involved a few extra, very challenging Pocono mountain passes in addition to the extra 50K. Two, all during Saturday's 150K I was cognizant of Sunday's ride; I actually rode well within my limits on both days. Add in a very conscious effort to take in enough calories before, during and after each ride and of course proper training in the weeks and months before the events, and the weekend was 'manageable.'
That being said, my RideWithGPS tracking says the Saturday 150K/93miler had almost 8000 feet of climbing within. I spent a lot of time in my 39×28 piddling up steep hills with turns that just added to the elevation rather than mercifully heading downward. As my classic DuraAce 9-speed group on my decade old all-steel Ritchey Breakaway will likely only manage a 38-28 at best, I think I'd ride a bike with a compact crankset and its 34 chainring for a ride as tough as I'm told the 200K is (next year?).
Oktoberfest was only slightly easier with more than 4ooo foot of climbing over its 6o or so miles. I did bypass the ride's infamous Eichele Road which goes up and up and up and gets steeper at the end for those not mentally ready for that. My bypass kept the total distance at around 100K, and a 47 mile version was also available that is a good option for those seeking a hilly challenge that avoids the hills-you-may-need-to-walk and gets you back to the parking lot in time to go home and maybe rake leaves, or lie around watching A Sunday in Hell on YouTube or whatever.
As it is Oktoberfest and so many of us locals are of Pennsilfaanisch Deitsch extraction, a few cultural notes. At one point in the ride for a good five minutes the smell of chocolate was pervasive in the air. This is expected periodically in Hershey, PA, and had been a feature in Lititz, PA, when the wonderful Wilbur Chocolate Factory still did its production in the downtown of the charming little place. I've been told they moved production out of town, though the Candy museum and shop remains. Apparently, there's some production from an unknown candy company along the Oktoberfest route significant enough to make riders drool.
Oktoberfest is known for more than a well marked, challenging, gorgeous route. It also has my fave rest stop of all time, complete with friendly staff, coffee and creamers, soft pretzels, cupcakes, and even apple cider this year. The soft pretzels are of particular note, and the mustard used on them has some anti-cramping properties that should be noted.
Finally, the bratwurst, sauerkraut, red skin potatoes and beer at the post-ride party at Appalachian Brewing were very well done. Good recovery food!