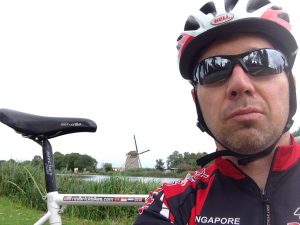 For twenty years  I was the editor of two trade magazines for TV and video engineers. The magazines were called TV Technology Europe, and TV Technology Asia/Pacific, and I also ran an e-mail newsletter on the same subject that went to readers in Asia/Pacific and EAME. You should still be able to see some of that at www.tvtechnology.com, particularly in Olympic years as I also do a lot of work from or about the Olympics. I'm working freelance now, for magazines and PR firms. And slowly seeking a job in the bike industry!
Much more importantly, I am a lifelong bike racer and cyclist. I've raced road, track, crits, cross, and a bit of mountain bike. Mostly a track rider really, at least that's where my natural talents were, but now I seem to have fallen in to an odd mix of ultra-endurance riding, one-day spring classic rides that often involve some dirt roads, and racing odd races on Bromptons, Fat Bikes and the back of a 26 lb magnesium tandem.
I'm also a mechanic, cycling advocate, and collector. To keep my collection sane, I have focused in on Peugeots, as I sold these when young and my first real race bike was a Peugeot. I like the Lion headbadge, the fact that Peugeots often have a slightly longer top-tube than other bikes, and my perception of the brand as an 'everymans' race bike. There's not too much snobbery here. That suits my personality.
Yes the French parts and threading etc etc on the older Peugeots can be a bear, but these bikes have souls. Pictured to the right is my most modern Peugeot, a bleu, blanc et rouge Columbus Neuron frame bike I acquired from Lithuania. I built it in to a 'retro modern' 19-lb fast century bike in anticipation of doing Kermesse Sport's Bastille Day Randonee in July, 2016, but alas something came up. This year maybe.
Yup, those are 9-speed DuraAce downtube shifters. I'll profile this bike eventually in my 'My Bikes,' page. I am seeking a small stuffed animal or plastic toy mascot … a small Pepé Le Pew, perhaps a frog? I think Pepé is nicer.