This page will eventually be a list of my best bikes … my 'keepers.' Maybe they will be posted in more or less chronological order.
c.1899 Lenape Racer
My circa 1899 Lenape, made in Doylestown, Pennsylvania, is the bike on the floor in the picture at left. It needs a restore (tim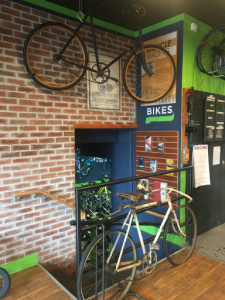 e, money) and then I'll join The Wheelmen and perhaps even start racing high wheelers as a side gig. I had thought that my Lenape was one of only three known to exist, with the other two owned by the Mercer Museum in Doylestown, and a local PA collector. I was wrong! Doylestown Bike Works found the one hanging on the wall in this picture just a few years ago.
My bike needs a lo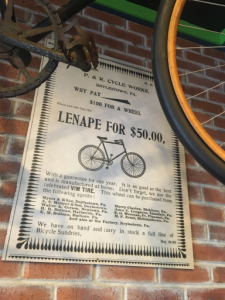 t of work to get in to something resembling rideable condition. I am more of a rider than a restorer, as the latter requires a lot of time and money. In general, I like my vintage bikes to be in my size and rideable, although when a bike dates from 1899 I could make an exception. I would like to ride a quarter century on it, perhaps on the towpaths along the Delaware River.
My Lenape was left at Doylestown Bike Works in February, 2020, as the Pandemic was beginning. It was the weekend of the Sourlands SemiClassic from Kermesse Sport, basically an early season hilly mixed surface ride I often do in the hills and rough roads of Hunterdon County, NJ. At one point on that weekend I had the Lenape inside my car, and my 2020 mo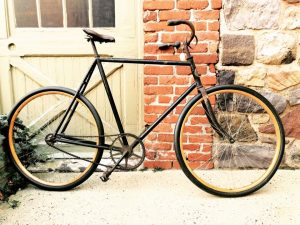 del year Trek Domane on the hitch rack. That would be my oldest and newest bike together. I expect to have the Lenape basically rideable and on display in 2021. More and better pictures as well.
1939 Schwinn Paramount
This bike was on display at Philly Bike Expo 2017. I think this is my second oldest bike, at least the second oldest bike that I will keep. I bought it off the original owner in
about 1993. If memory serves me, he bought the bike in Manhattan in 1939.
H
Bob told me that at some point he rode the bike to Chicago, to visit the 'factory,' and I'm not sure exactly what that meant. Here, they added pinstriping while he waited. A quick look at Waterford's Schwinn Paramount pages tells me the bike was most likely built by a builder named Emil Wastyn, who had been building Schwinn's pro race bikes for the Six Day races that were popular before WWII.  As pictured the
bike has later aluminum clincher rims, laced to Schwinn's impressive Paramount hubs that are original to the bike. I also have a set of wheels with Schwinn Paramount hubs and wooden tubular rims I kept from a 1947 Paramount I sold. They will eventually be put on this bike.
I can't say a whole lot more about the bike. The tubing has the feel of the steel that was still standard when I started racing in the 1980s. If it had the wooden wheels installed, and a lighter aluminum crankset, it would be very similar to my first track bike,  circa 1985, in weight and performance. One note: If you look closely at the top picture, you'll see a 'Major Taylor' adjustable stem. I read somewhere that MT invented that stem or the concept, but I'm not sure of that.
I can only tell you a little bit about Bob Wells. I sure wish I had a camera phone back in 1993 so I could have copied the old pictures he had of the bike. Bob Wells was well in to his 70s then, but looked to be in his 50s. He also had a late 1980s Schwinn World Sport entry level sport touring bike, which he rode 15 miles daily.I built 1000 or so World Sports from 1986 through about 1992! Good basic bikes.
I bet the chromoly frame on Bob's World Sport rode somewhat like Wells' Paramount. Maybe Bob is still with us. His father had just died when I met him, and the father rode a bike up until a few weeks before he died in his nineties. That's hopefully what riding a bike will do for you.