The point of highlighting a failure is to remind newbies to the way of the wheel that an occasional miss is OK. Pick yourself up and do something to make up for it. My failure to do my second Marty's Fat 50 fifty mile Fat Bike ride/race* on January 13 was partly due to some freelance writing work I needed to stay on top of, but really due to the fact that I just wasn't up to another ride that started at 10 degrees below freezing and ended hours later after it had 'warmed' to just about freezing at best.
The cold is also why I failed to do my first ever Rapha Festive 500, which is basically riding 500 kilometers total between Christmas eve and New Years eve. This would have been nice to do as it could have involved a few rides from Rapha's new, evolving Washington, DC, presence, but the sting of missing this was offset by what still ended up as my longest mileage December ever, or at least in 30 years.
And that was on top of my longest Q4 ever, which reflects the fact that I became a randonneur in October, joining RUSA, the PA Randonneurs, and also the DC Randonneurs. NJ may follow. But more on taking up Randonneuring later, including some advice on extreme cold weather riding and riding through the night from these folks.
So no Marty's Fat Fifty. Next year probably, and see my recount of last year's ride from a bike industry perspective here. This story is aimed at encouraging bike shops to get Fat, but it also highlights just why a Fat Bike would be a good addition to the stable. I am still glad I got the Fat Bike on the first day of a big snow period two years ago, as I hate the damned trainer and indoor riding.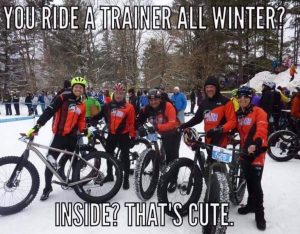 Now on my medium-term radar I have the 200K/120 mile D&L Fat Epic Fat Bike ride, probably not this year but maybe next year. One of the reasons this is of interest is that it starts in Yardley, PA, right near Newtown, PA, where I grew up and still frequent. But 200K in February, on a Fat Bike?! I sent the organizers a message that people like me would do it at 80 miles, but 120 is just too involved in terms of prep, the logistics of the event itself, and recovery … not this year.
As an alternative to the Fat Fifty, I'm flying to Tucson, AZ, to do a metric century (an RUSA permanent populaire actually, which will be 25% of my P-12 goal) that involves climbing and climbing and climbing up Mt. Lemon for hours, followed by a long descent.
* It's really not a race unless it has a sanctioning body that provides you a license. Bike racers sometimes get annoyed when people call bike-a-thons and such races. Bike racing is different. Now bike racers more and more are 'racing' events and people often note the fastest finisher of course, but bike racing is different.