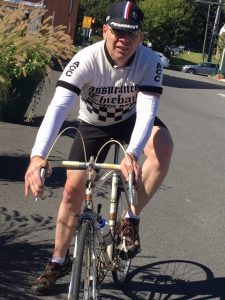 The idea was simple: Ride 50 miles on a 50 year old Peugeot PX-10 on my 50th birthday. I like to refer to my birthdays as an 'accomplishment day,' as the concept of being lauded just for being born on that day seems weird. So I came up with the 50-50-50 to make it interesting, and to start down the road to doing a L'eroica one of these years.
I'll write a lot more on the bike and the things I learned  about riding a vintage bike in a week or so. I had never ridden a bike this old that far before … one thing I will definitely need to do is find my box of old 80s and 70s cycling shoes so I won't have to wear sneakers again!
I am also curious to see how my first real bike that I rode all over creation, a 1980s Peugeot PSV-10, compares. That will be my L'eroica bike I suppose. I think the bars are a bit wider and the brakes are better, so the bike will feel a tad more modern. The Mafac center pulls on this 1968 bike just don't work that well. I will have to ask more experienced vintage riders what I might be able to do in terms of brake pads etc on this score. And the reach to the lever requires longer fingers than I have!
I averaged a bit over 15 mph on my ride from Bethesda down the Capital Crescent Trail, and then up the long hill of the Custis Trail before the rolling but generally flat W&OD Trail. The turnaround was just past Vienna. The pic is from about mile 28 of the endeavour, in the parking lot of Bikes@Vienna.
I felt much better on the bike than I anticipated.
More later on bike specifics and things I learned. Work calls now, and then two big rides on the weekend.
Now, I  have to write about audio!!