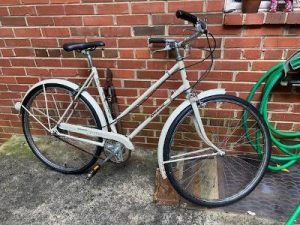 So I have half a dozen or more Raleigh and other British 3 speeds under a tarp in my driveway that need to be sold while cycling is the hot thing … anybody who has kicked around bikes for the last 50 years or even more knows the type of bike. I just got a dozen 590 BCD 26 x 1 3/8 tires so these old bikes need to be fixed, cleaned and sold with new tires.
These bikes do have some peculiarities that I knew more about back in 1987 when I was working on them quite often, but I have forgotten much of this. Whitworth wrench sizes and threads, a front wheel that must always be put in the same way, the little square washers on the rear wheel etc.
For a refresher I knew where to go: Sheldon Brown, with some of his musings here and more tech help accessible via that link.
It was a perfect quick read that gave me a mechanical reminder and also gave me a slightly new perspective on the bikes.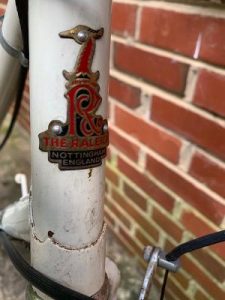 I will sell all of mine, and retain just a Peugeot Mixte three speed from the 1980s as my own. These Peugeots are sort of uncommon but I like them because they are lighter by more than a few pounds and they seem geared lower (for tres petite French ladies who don't want to develop big thighs?). I guess I have a Brompton that is a 3 speed as well, and maybe a Peugeot folder from the 1980s. And a 1970s Peugeot folder which might have a Sachs hub? Hmmmm, I just acquired a weird made-in-Romania Rapido that has a three speed freewheel on it. That's a rare bike around here.  i couldn't stand to see it destroyed so now it is in my driveway, too.