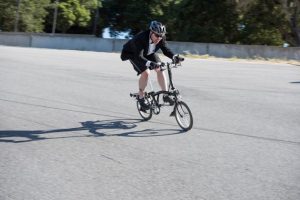 The US edition of The Brompton World Championships are in New York on June 18, part of the Harlem Skyscraper Cycling Classic. I need teammates to join my new team, The Philadelphia Fliers. This is a low stress offer — just show up and ride!

This race is the US leg of the Brompton World Championships (BWC) series, which includes events all over the world culminating in a 'Final,' event held in Brompton's hometown, London.
The rules are simple, you must be riding a Brompton, wear a helmet,  and wear either business or formal attire with no visible lycra. For the two BWC USA events I've done in Richmond, VA, on the real World Road Championships course, in 2015, and at the famous Laguna Seca race track near Monterey in 2016, I wore the tux I wore to my high school proms. I even used mountain bike baggy shorts with a stripe down the side like real tuxedo pants, a wonderful subtle detail lost on the best dressed judges as I've been shut out of the fashion competition two years running. I guess a tux is kind of boring.
The race is a silly hoot. It begins with a "Le Mans" style start, with each competitor running to his or her folded bike before unfolding and either racing (me and maybe 30% of the participants) or parading (maybe 70% of the riders?) for the 5-10 mile 'race,' which this year will consist of ten laps around NYC's Marcus Garvey Park.
Back to my quest. I'm seeking Brompton owners or people able to borrow a bike or find one on Spinlister who will join my team … The Philadelphia Fliers! You don't have to be from Philly or DC or NY. It doesn't matter. You could even be from Jolly's Bottom in Cornwall, UK.

At the BWC in 2016 at Laguna Seca I was part of the Gold Medal winning team, a wonderful bunch called #BromptonNYC. That's us with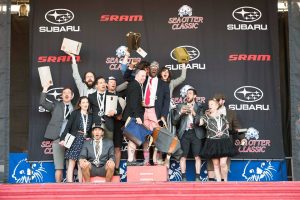 our big gold medals and the lovely leather Brooks bags we won.
But this year, I got shut out of the NY team as it filled up fast, as it's a hometown event. So I need a team. Ideally we would all be from metro Philadelphia and ride on black and/or orange Bromptons, but we'll take anybody.

I will say my longtime bike racing friend Greg, the second man on the team if his work schedule allows, has a legit shot at doing some damage in the Masters 5o+ category.
This year I am aiming hard at the best dressed category, with a vintage outfit yet to be revealed. I will say that outfit will be exactly 100 years old. That's why I won't be risking it by 'racing' the event. But who am I kidding, I'll probably race it hard and fast when my instincts kick in. 
Sign up with the Philadelphia Fliers when registering for the BWCs. Your reward will be a RedBrickBikes sticker, if you remind me … Just start keying in P-h-i-l ..and the Philadelphia Fliers will come up. The password is carl1917, which is a further hint to my costume by the way.

And maybe just maybe we'll crack the top three teams and be on that podium. It will be hard with a few strong New York teams likely attending en masse.

Participants can register here. You should be able to specify the Philadelphia Fliers as your team. Go ahead and do
so, I need at least three to make a team, and I only have two so far. You don't need to be fast or particularly well-dressed. You could end up winning a Brompton World Championship team medal like the one you see here. If you don't own a Brompton, I might have a loaner, and I know a few are typically available on Spinlister.
Contact me at redbrickbikes@gmail.com with any questions, and let me know if you successfully sign up and join the team!