If anybody out there reading this is already signed up to race the US Brompton World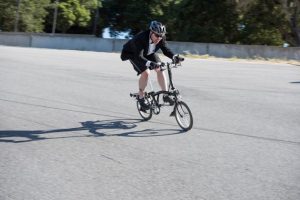 Championships (BWCs) in Laguna Seca, California, on Saturday, April 21, there's still time to join the Philadelphia Fliers Brompton Racing team. The Fliers are a Mid Atlantic-based team that took 2nd in the team competition at the 2017 BWCs in Harlem. This year, due to conflicting schedules, we need a few more riders to form a team.
If you're racing, join us! Anybody can join if you're already signed up to race – just go in to amend your registration and type in Fliers and it should still be possible to join the team. We don't care if you're not from PA or the Mid-Atlantic. The team is just a lighthearted attempt to break the stranglehold the New York teams have over the fledgling sport. Why should they get all the glory and endorsement deals?!
Most 'racers,' at this event use it as much as a parade as a race – you do not need to ride hard or push your limits for the team. We just need bodies, and bikes. See this video of the 2016 race to see what it's all about. Yours truly can be seen at around the 41 second mark as a two man, tuxedo-only chase group.
And if the timing is not right for you this year, note that next year's race might be on the East Coast. E-mail me at redbrickbikes@gmail.com and we'll talk! I even have one spare bike I could loan out if the event doesn't involve an airplane flight.
Not only do the top three teams win medals, there are also nice prizes courtesy of the good folks at Brooks . Each member of the team won a Brooks B-17 in Harlem last year. It now complements one of my vintage bikes nicely, and is just getting more and more comfy over the months.
For the unitiated, and borrowing heavily from the race registration page, the Brompton World Championship is a racing event featuring only Brompton folding bikes. Initially held in Barcelona in 2006, the BWC has grown to comprise qualifying heats in fifteen countries with a final in the UK. The races feature a Le Mans style start in which participants sprint to their folded bikes, unfold as quickly as possible and start racing. Riders must follow the strict dress code which reflects the common use of the amazing little folders as city commuters: All participants must wear a suit jacket, collared shirt and neck tie, with no visible sportswear (such as Lycra) allowed. Formal wear or militaria is also allowed: Twice I have worn my high school tuxedo, and in Harlem I wore my Great Uncle's World War I tunic, about 100 years after it was first worn!
There is also a fashion competition. Many don elaborate and fine or silly suits in an attempt to win 'best-dressed." While most use stock Brompton bikes, many are souped up with clipless pedals, Ti tidbits, modified bars and racing slicks. Brompton has now or will imminently launch a quick version of its bike aimed at faster riding. Maybe there is a future in Brompton Racing!
The course at Sea Otter consists of five laps around Laguna Seca Recreation Area for a total of eleven miles. Race categories include Men, Women, Veterans (age 50+) and Teams (3 – 5 members), with the fastest overall man and woman winning entry into the BWC final in London in July. Somewhere between 75 and 100 racers typically compete in the US BWC.
As Directeur Sportif of the Philadelphia Fliers, I fear I may fail to field a team this year unless we get a few late additions. On an individual basis, I hope to take a podium spot in the veterans category in my first year as an old man, and maybe a top 20 overall.