Many of us all over the US have had a rough month of weather. You know it's bad when an occasional day above freezing seems like a thaw. I've managed with a lot of one hour Fat Bike rides in the safety of the woods where winds aren't too bad, and a bit of tedious trainer time, and of course the gym.
But my brother put an idea in my head when I nagged him in to joining RUSA and starting some longer rides: Let's do a 'Permanent' 100K ride in Tucson, AZ, up Mt. Lemmon. He had done this climb on his own before when visiting the area, and loved it. So we set out to do a very enjoyable, very scenic 100+ kilometer Mt. Lemmon Permanent ride in late January.
It was perfect weather to wear my new PA Randonneurs merino wool short sleeve jersey, albeit with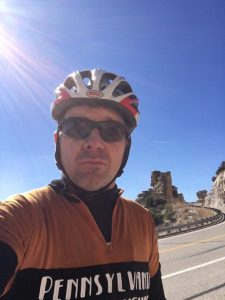 a snug underlayer. The start was almost 50 degrees, and the temps went up a bit as the day went on, even if they simultaneously dropped from the altitude gain during the long, long climb of something like 24 miles. We don't have long gradual climbs with switchbacks like they do in the west.
I didn't know how I'd fare. Our East Coast mountains are steeper, but I don't think I've ever climbed for more than 20 minutes. Mt Lemmon took something under 4 hours to climb. I'd say the perceived exertion was moderate—something akin to sitting on the back of a group of stronger riders doing a century.
The hardest part for me was the descent. Again, this was something neither I nor my brother had much experience with, a long long descent. I descend like a track racer with one balance nerve and two mortgages, as I like to say. One of the many things this descending wimp liked about The Rider was the fact that the protagonist was a lousy descender. It always hurt me in the road races I did. I could bump shoulders a bit on the track or thread the 45 cm gap between two riders with my 40cm handlebars, but don't ask me to let it roll even on a long straight downhill.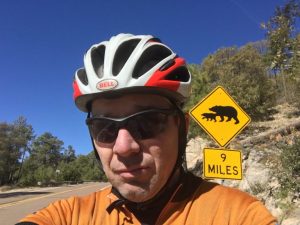 My brother ended up being much much faster on the descents than I was. If we could combine my climbing (not bad, not great) with his descending (better than mine at least!) we would have had an impressive ride. As I waited for him quite a bit at the top, and he waited a bit for me in the last miles before I hammered well up to him after my white knuckle descent, we had a longer day than expected.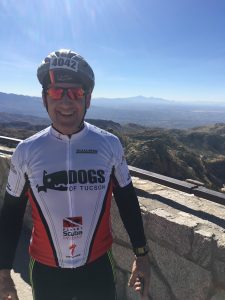 I suggest this ride — and Tucson in general — for Northeners who want a winter break. Between the scenery and the nice Tucson area, it will likely become a semi-regular cold weather break for me.